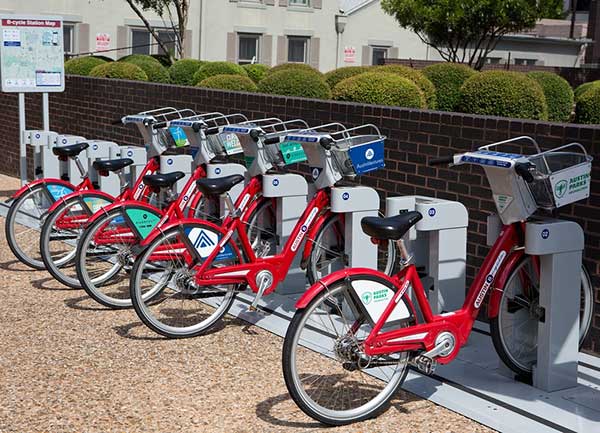 Learn all about Austin's bike share, B-cycle and how it's helping this eclectic city reduce traffic congestion.

Austin, Texas has a lot going for it. It's considered the "Live Music Capital of the World", which is a pretty cool moniker. It has almost 2,000 food trucks sprinkled around the city, offering a wide variety of delicious eats for residents and visitors. And, it's home to the very first Whole Foods.
Austin is also the fastest growing city in the United States, which means, you guessed it, traffic is getting a tad on the congested side. Austin actually ranked #13 on the 2016 INRIX Traffic Scorecard for US cities with the worst traffic.
Luckily, the city has a great and affordable bike share that allows Austinites to get out of their cars and onto bicycles. Allow us to introduce to you, Austin B-cycle.
Austin B-cycle features hundreds of bikes at 50+ stations throughout the city and offers 6 different passes for riders:
Austin B-cycle bikes are available 24/7 and all feature a basket that can hold up to 20 pounds; safety lights and reflectors; puncture-resistant tires; and splash and chain guards to keep your clothes nice and tidy.
Austin B-cycle is definitely doing its part to help reduce Austin's traffic. According to the City of Austin's website, "about a quarter of its bike checkouts replace a car trip, based on a user survey. That averages out to 140 avoided car trips per day in Central Austin – and less traffic on our streets." In fact, as of April 1, 2017, Austin B-cycle helped reduce the city's car trips by 153,563. That's a lot of cars off the road.
Here's to many more reduced car trips to come!
Happy Bike Commuting!