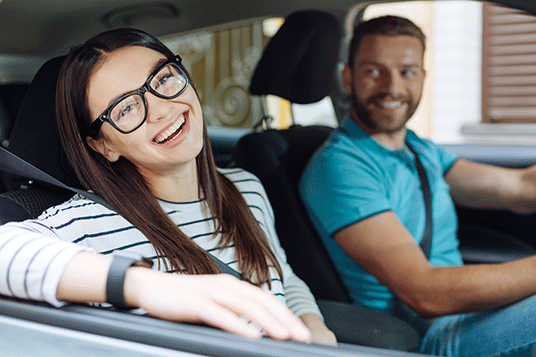 Making the most of every seat in the car to save money and energy goes back to the first Ford Model T. Since then, the history of carpooling has been tied very closely to changes in fuel prices, politics and the state of the economy.
In the 1940s, carpooling was part of the nationwide wartime rationing effort. Ridership dropped in the decades following but spiked again during the 1970s in response to a nationwide energy crisis. In 1980, 24.5% percent of Americans were carpooling. In 2011, that number dropped to 11% as fuel prices dropped and average household incomes increased.
New Census data has shown that in recent years, the number of commuters carpooling is back on the rise.
Today, commuters are more connected by technology, more conscious about their environmental impact, and more open to participating in a shared economy as a way to save and make money. These factors have all contributed to the popularity of rideshare services like Uber, Lyft and Via and the organization of carpools, as well.
Carpooling brings together the best of many commuter worlds. It still offers the comfort and privacy of being in a car, with just a few extra passengers sharing the experience. It gives drivers the chance to be passengers and enjoy free time to jumpstart the day. And it helps reduce fuel and toll costs, and the number of cars on the road which is good for the environment. Carpooling can also help save on car insurance.
If you've been driving alone long enough and are ready to share the ride to save money and resources, here are a few ideas to help get a carpool started.
Spread the Word
Through email, social media, text messaging or just asking around, the first step is to find out who is interested in joining in on a carpool.
Be Selective
Make sure to communicate with potential carpoolers to find the right fit. Agree on daily schedules, pick up times, locations, and how gas, toll and parking costs will be shared. Also set expectations for eating and drinking in the car, music preferences, noise level, or stopping for coffee on the way to work in the morning.
Use an App
There are several apps available to help you make money as a carpool driver if you plan to be the only one or to meet other people who are looking to share a ride on the morning commute. Apps can also make splitting the cost of the ride easier as well.
Stay Committed
Small interruptions like sick days, no-shows, business trips or changes in employment affects everyone in the carpool. By having backup plans, emergency contact info and communicating changes well in advance, these should not stall a carpool for good. Stay on course and on the road to maximize the benefits.